NEW "FOOD FOR THOUGHT" INFORMATION.

We like to think we have our hand on the pulse of the thoughts of the people, based on the questions they ask, because if it is

"all on your mind - it is all in the air."

We will be providing very short analects of information for you to process. At this time many are going to and fro in the earth. Some are seeking Knowledge and others are seeking to Devour. YOU must haved discernment. Those who are seeking knowledge must first be a student, then they become a Teacher, as the Teacher ONLY appears, when the Student is ready. This also means for those who choose a teacher, they must check to see if the one they have chosen has ever been a student themselves, if not, they may be misguided and ill-taught.

"Careful Moors, some of your own wearing Turbans and Fezzes, will put you back into slavery."

Eventually the analects of information, designed to

get you to thinking so you can free yourself

, will be moved to the existing

"Food For Thought"

page. Keep up, things are moving fast.

.

We are adding 2 short Analects to start below: 1. Masons vs. Masonic Order 2. Registry and Vital Statistics



.
.
.
.
.
.
.
.
.
.
.
.
.
.
.

.....For Continued Article Click Here



From Congressional Globe: House of Representatives, Friday, January 3, 1845 in regards to the "Annexation of Texas":

The stupendous deserts between the Nueces and the Bravo rivers are the natural boundaries between the anglo-saxon and the Mauritanian races. there ends the valley of the West. There Mexico begins. Thence, beyond the Bravo, begin the Moorish people and their Indian associates**, to whom Mexico properly belongs; who should not cross that vast desert if they could, as on our side we to, ought t stop there, because inerinale conflicts must ensue either our going south or their coming north of that gigantic boundary. While peace is cherished, that boundary will be sacred. Not till the spirit of conquest rages will the people on either side molest or mix with each other and whenever they do, one or the other race must be conquered, if not extinguished.
Annexation: The act of attaching, adding, joining or uniting one thing to another; generally spoken of the connection of a smaller or subordinate thing with a larger or principle thing.

The attaching an illustrative or auxiliary document to a depositon, pleading, deed, et., is called "annexing" it. So the incorporatton of a newly-acquired territory into the national domain, as an integral part therefoe, is called "annexation", as in the case of the addition of Texas to the United States.
**Note: When Indian is used it is speaking of the Hindustans, who were an integrated part of the American land, as they are aboriginal to the land and traveled back and forth long before the modern europeans colonists. Today even those who had been calling themselves "American Indians", no longer consider it politically correct or wish to be called that and choose to identify with their tribally, of which tribal 'names' are family appellatios of the families of the same Nation, the Moorish Nation / Family, as is the Mexicans, indicated as where they properly belong to in the above congressional records.
In these same congressional recordings it mentions the comon law of private rights:
"Where he who hath the true property, to "jus proprietatis", in lands but is out of possession thereof and hath no right to enter without recovering possession in an action, hath afterwards the free hold cast upon him by some subsequent and of course defective title; in this case he is remitted or sent back, by operation of law to his ancient and more certain title. The right of entry which he had gained by a bad title, shall be, ipso facto, annexed to his own inherent good one; and his defeasible estate shall be utterly defeated and annulled by the instantaneous act of law, without his participation or consent. 9 Blackstone's Com.19.
Translation in short: Unless you come or 'come now' with the proper title to your inheritance, which includes the land and any rights, which are also inheritances, tied to you anciently, you will have no right of entry because of a bad title, or no title. Rights are Corporeal - those you can see, and Incorporeal, those you cannot, such as Rights and Obligations. Thus, the condition of the true heirs apparent today, who do everything and anything but claim their title to the land. The modern europeans are foreigners and they are aware of that "ipso facto" - in law. They also go on to talk about acquiring foreign territory by purchase or by conquest. PROOF that this is NOT their ancestral estate and they are NOT the natives, nor are they the aboriginal people, of whatever tribal/family appellation.

.
.


.
.

.
El Yanga - National Mexican hero - 2 pg. PDF)




In Regards To 'Nationalizing' -- 2015



"Moors, Temples and Membership"
.
.

.

.


.
American:

n.

an Aboriginal or one of the various copper-colored natives found on the American Continent by the Europeans; the original application of the name.

—Websters 1828 American Dictionary of the English language and 1936.

— Websters unabriged 20th century dictionary.
Wow, we really do need to have schools that teach our own, don't we? As this information is another game changer.
.
.
.
.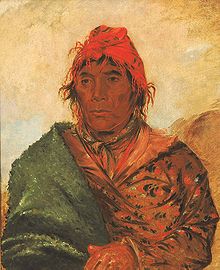 A Later King Philip!!! -1800 (right) was Ee Mat La of the Seminole Moors Family, a war Chief from the Second Seminole War.
Check out Micanopy, (right) known as Micco-Nuppe, Michenopah, Miccanopa, Moc-an-opa and Sint-Chakkee, which means 'pond frequenter', as he must have spent a lot of time at the pond, probably meditating, paticularly on the insurgence of the colonists, who wanted to suppress the aboriginal and indigenous people because CLEARLY, they (colonist) were disrespectful of nature, of life, of humanity. What can you expect from uncivilized barbaric slaves, murderers and thieves. This is the second of wars for the natural people of the land against them. Micanopy was a war leader in the Second Seminole Wars - Check out his hair, as they are locks. Hair like lambs wool, skin like brass - copper.

Asiatic American Connection To The Continental Americas" - PDF


.
Click Here to Order Books via Paypal


.
"When one studies issues involving Nationality & Birthrights, one begins to understand that Laws of

C

ivilizations

come from the natural people of Nations.

And if you are not part of a Nation you don't come under

National or International Law. Therefore, you are not recognized by the Nations of the Earth; because Law deals with the interchanges made between natural people across the planet, and has generally, always been

that way.

And the

(Nations) have

governmental principles that are universal in their character.

These international principles are not unique to us necessarily, they are universal in their character.

So when one deals with other

N

ations

,

there are certain

universal and

fundamental civil principles that are expected from you, when others communicate with you.

And if you don't display a basic knowledge of such rules of order, then you are in violation of

Divine Law, (from whence the principles of

government law

is derived). One may be deemed as being

outside of

the L

aw or considered to be what is called or referred to as an

"

outlaw

". Such a circumstance may be assumed by

the natural citizens of a nation and government; and by virtue of such conditons or status, may do whatever they want to you and get away with it."