.
.
.



..

.
.
.
.
.
.
.
.
.
.
.
.
.
.
.
.
.
.
.
.
.
.
.
.
.
.

.From your computer, tablet or smartphone:
Access Code: 471-041-685
.


Make ANY and ALL correspondence regarding Koran classes to: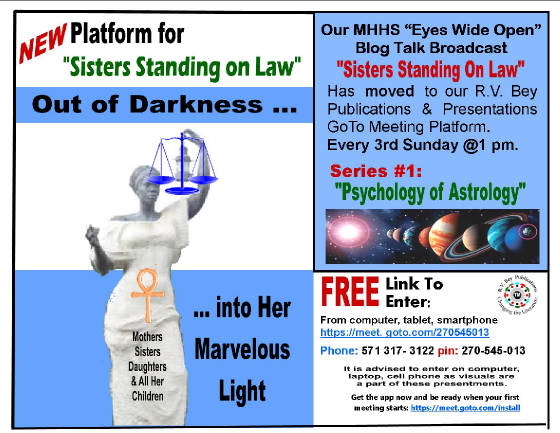 Sisters Standing On Law, has moved
from Blog Talk Platform to new GoTo
Meeting Platform.
Still every 3rd Sunday @ 1pm.
.


FREE To Enter:
https://meet.goto.com/270545013
Phone: (571) 317-3122
Access Code: 270 545 013
Make a note, it will always be same.
.
We advise to enter with laptop, tablet or
computer (not phone) so you can see our
presentments. You can cut camera off after
entering and still see our presentments.
.
.
.


.
NEW Proclamation Instructions - 1 pg. PDF
NEW Process Form for Proclamations Sealings - 1 pg. PDF
.

Card Re-Prints and Additional Cards Instructions - 1 pg. PDF
CARD REPRINTS via paypal payment
Or send money order. Instruction are on updated instruction form itself.


.
FOR YOU TO STUDY WITH:
Below is a blank Astrology chart for you to "study from" and jot down your planet and sign placements and / or to use
to memorize houses, planets and signs - signs and symbols.

Download Blank Astro Wheel for Your Use
.





.

Background Truth Regarding Name and Judicial Proclamations
.



.
Click Here for this Article in PDF - 1 Pg.
.



If you are looking to become a Member of the Great Works of Prophet Noble Drew Ali, via the M.S.T.A. Temple, we suggest you become an Honorary Member of the MSTA - Canaanland, G.S. Kudjo Adwo El. Email: amauryelbey@hotmail.com for the membership form.
.

NOTE: Article 12 CLEARLY affirms if you are a descendant of Africans you CANNOT be a citizen of any of the Union States (U.S.A.). Therefore, this includes anyone who calls themselves, or answers to being negroes, coloreds and blacks today and say they are descendants of those who were kidnapped from the Coast of Africa by ENGLISHmen, with help of their own brethren during the 4th stage of the Colonial Conquest / Christian Colonizers intent, who just got out of slavery themselves. Many of the Family of Moors across the Nation, particularly those in the North American Continent, have established all sorts of movements, activities, organizations, associations, coalitions, etc. to tackle their unalienable / inalienable birthrights and Liberty infringement issues, which are civic in nature.
In grave ERROR, they and the so-called civil rights leaders have utilized the 14th Amendment (which is for corporations and corporate persons ONLY!!). Upon reviewing the true records, it would be clear to them and to those who do the civic works of Prophet Noble Drew Ali, that there is no need for the 14th amendment for the salvation of the people, because it was HANDLED in the 13th Amendment, as it relates to the Law of the Land. There is no need to naturalize into the Constitution to make any claim, as it was / is ALREADY handled in the Constitution itself. Anyone who leads and does not study to know, is not qualified to Lead. You must KNOW for yourself and teach your children and those in your immediate cipher first, or you and your children, friends and associates, could be working with people, who work with people to maintain servitude. This is why the Law of the Land is to be enforced as the Noble document it is. IF NOT, you will be molested by "other citizens", inclusive of corporations, which are subject citizens, as is happening today. You need to know if ANYONE says they are changing and or abolishing the Constitution, they are NOT talking about the "Law of the Land" your foremothers and forefathers laid down based on natural law and principles of civilization, established to be enforced by YOU. It is EXPECTED of us all to maintain the same for our own sanity and salvation. Come out of the fiction and all that is for fictions (14th Amendment and beyond). Join the ranks of the "Living" - "In Full Life", and take your place amongst the affairs of "Man."
.

We have a

dded a Link to the

NEW Moorish Message Music

from

Kudjo

and a host of other conscious

Moorish Music Messengers

entitled

"Wisdom Ovda Womb".

This compilation spans time past and PRESENT to help shape the future.

Obtain your copy NOW, by clicking on PX to Left.




.
Moors Aboriginal Tie to Russia has been put in a 1 Page PDF
Moors History In Russia - 1 Pg PDF
.


Click Here for This Article in a 2-page PDF
.

"Proof of AN Original Treaty Request" by Colonist to 'Mexicans' and Why, has been edited and put in a 2-Page PDF below:
Click for "Proof of Original Treaty Request by Colonist to Mexicans" - PDF

.

"Moors, Temples and Membership"



El Yanga - National Mexican Hero - (2 pg. PDF)





.
.

These documented facts are proof positive of why it was and STILL is necessary to have Schools and teach history from a truthful perspective. Finding or unveiling these truths are a real game changer and "Mind-Blowing" experience. Proving we are in a "Mental Slavery".
.
.
.
.
.
.
King Philip and Alexander - 1 Pg. PDF

Asiatic American Connection To The Continental Americas" - PDF


.
Click Here to Order Books via Paypal


.
"When one studies issues involving Nationality & Birthrights, one begins to understand that Laws of

C

ivilizations

come from the natural people of Nations.

And if you are not part of a Nation you don't come under

National or International Law. Therefore, you are not recognized by the Nations of the Earth; because Law deals with the interchanges made between natural people across the planet, and has generally, always been

that way.

And the

(Nations) have

governmental principles that are universal in their character.

These international principles are not unique to us necessarily, they are universal in their character.

So when one deals with other

N

ations

,

there are certain

universal and

fundamental civil principles that are expected from you, when others communicate with you.

And if you don't display a basic knowledge of such rules of order, then you are in violation of

Divine Law, (from whence the principles of

government law

is derived). One may be deemed as being

outside of

the L

aw or considered to be what is called or referred to as an

"

outlaw

". Such a circumstance may be assumed by

the natural citizens of a nation and government; and by virtue of such conditons or status, may do whatever they want to you and get away with it."